15th Music Festival Arsana
WORLD MUSIC EXPERIENCE
14th–29th July 2023  |  Ptuj, Slovenia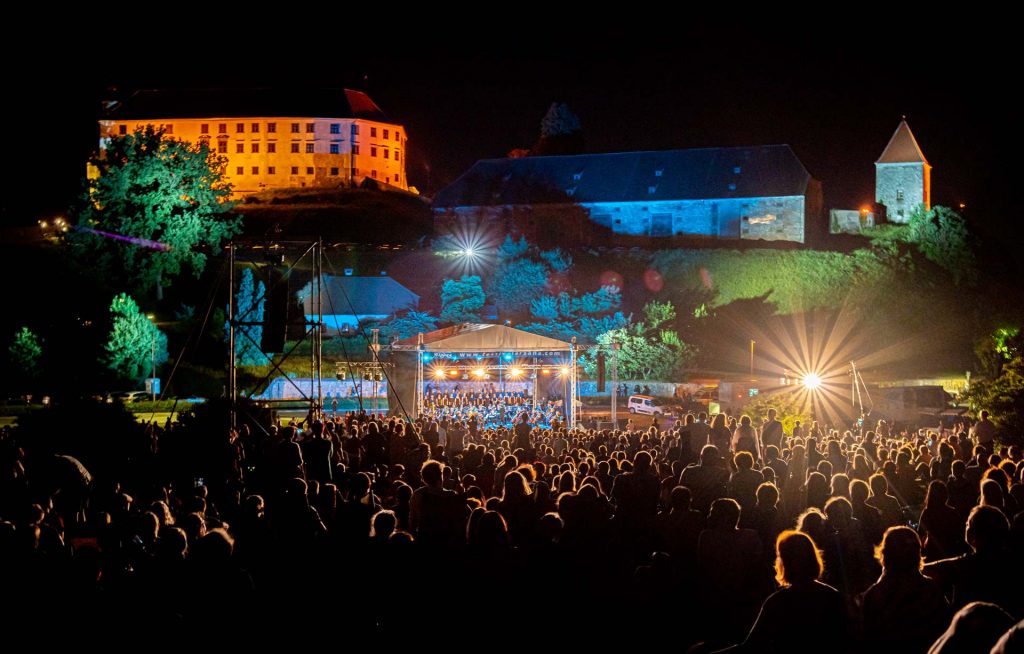 Foto: Albin Bezjak
The Arsana International Music Festival, which, over the course of fourteen years, has presented more than 1,000 events, welcomed 10,500 internationally acclaimed artists, attracted nearly half a million visitors from around the globe, and evolved into one of the most renowned and diverse music festivals in Slovenia and the surrounding region of Europe, is once again putting Ptuj on the world music map.
The 15th season of the festival will showcase 350 local and foreign artists representing classical, jazz, ethno, world, rock, and popular music genres through over 50 captivating events at the splendid locations of Ptuj's historic city between July 14 and 29. The festival also caters to a younger audience, offers children's activities, and a vibrant accompanying program.
OPERA NIGHT ON PANORAMA HILL
An introduction to the festival summer which has been attracting a record number of visitors from both near and far for several years. Beneath the stars and surrounded by the picturesque scenery of the Ptuj Castle, attendees will have the opportunity to listen to renowned works from the opera's rich repertoire, performed by the SNG Maribor Symphony Orchestra, Opera Choir, and soloists (Sabina Cvilak, Andreja Zakonjšek Krt, Petya Ivanova, Valentina Čuden, Irena Petkova, Martin Sušnik, Jaki Jurgec in Nika Gorič).
FESTIVAL HIGHLIGHTS
Plural – Sašo Hribar & Renato Vindiš
Sašo Hribar and Renato Vindiš in socio-political satirical comedy. Partly joking, partly for real there is something said by words and something by music.
Poletna noč® / Summer night in Ptuj
Ptuj is set to host an enchanting event for the first time: a glamorous concert of Slovene popular songs Poletna noč®. The songs will be performed by esteemed soloists Raiven, Nuška Drašček, Lea Likar, Gregor Ravnik, Saša Lešnjek, Alenka Godec, Oto Pestner, Elda Viler, and Alfi Nipič, accompanied by RTV Slovenia Symphony Orchestra and Big Band.
Joven Orquesta de Jaén (ESP)
The Spanish youth orchestra comprises 60 young musicians from different parts of the province of Jaén who study at professional conservatories in Jaén, Úbeda, and Linares, and at higher conservatories in Madrid, Salamanca, Zaragoza, and Jaén. The orchestra performed at various international music festivals in recent years, including in Spain, France, Italy, and Austria.
Estudiantina Ensemble (CUB)
The Cuban band Estudiantina Ensemble belongs to the handful of those that still preserve the so-called estudiantina tradition of student music groups that were extremely popular at the beginning of the last century. Their music is a mixture of authentic Cuban styles danzon, guaracha, bolero, and son.
Vlado Kreslin and Mali bogovi & Teo Collori and Momento Cigano
Vlado Kreslin, Festival Arsana's popular regular, leaves an impression on a very varied crowd of listeners every time. With the Beltinška banda (Beltinci Gang), he ignited a revival of ethnic music in Slovenia. This year, he will be joined on stage by the Mali bogovi (Little Gods). On the same evening, Teo Collori and Momento Cigano will perform a lively mix of gypsy and swing music.
Josipa Lisac (HR)
The Croatian music icon Josipa Lisac has been inspiring with her unique vocal interpretations and captivating stage presence for over 50 years. This year marks 50 years since the release of her debut album Dnevnik jedne ljubavi (The Diary of Love) which gained cult status shortly after its release in 1973 and is still considered one of the musical climaxes of the former Yugoslavia.
Tadej Toš – Stand Up Show
His rightful place among the festival stars will once again be filled by Tadej Toš, a local luminary and ambassador of the event. The acclaimed stand-up comedian and actor will perform at the Vraz Square.
Hamo & Rudi Bučar
in their joint acoustic evenings, Matevž Šalehar Hamo, frontman of the blues rock band Hamo & Tribute 2 Love, and Rudi Bučar, versatile musician and Istrian singer-songwriter, create an unforgettable and heartfelt atmosphere through singing, playing, storytelling, and extraordinary mutual energy.
Carmina Burana: Stefan Milenkovich & Camerata Novi Sad (SRB)
Serbian-born violin virtuoso Stefan Milenkovich, declared Serbia's Artist of the Century in 2002. Violinski virtuoz srbskega rodu, ki je bil leta 2002 v Srbiji razglašen za umetnika stoletja. Even before the age of 14, he had played for important figures such as then-President Ronald Reagan, the leader of the Soviet Union Mihail Gorbachev, and Pope John Paul II. Today he performs with acclaimed orchestras and conductors. He is currently the artistic director of the new concert hall in Novi Sad and an associate professor of violin at the Novi Sad university.
Camerata Novi Sad is the official chamber orchestra of Novi Sad. It joins the best professors and students of the Academy of Arts and collaborates with renowned Serbian musicians and conductors.
Nina Pušlar
Nina Pušlar is one of the most popular and widely-played Slovenian singers, known for her genuine energy that easily attracts audiences. She performed in almost all Slovenian venues, sold out Križanke twice, performed in the legendary Tivoli Hall, and recorded seven studio albums with a huge number of hits.
Joker Out & Dan D
Concluding the summer festival in an intergenerational spirit, two exceptional and revered musical acts, Joker Out and Dan D, will perform in a double concert.
Joker Out, representatives of the younger rock generation, continue to conquer hearts with their unstoppable youthful energy and visually perfected image. Their circle of fans grows with each performance, and many big stages are behind them, including the Eurovision that opened the door to the global music scene.
Dan D, one of the most famous Slovenian bands, has been inspiring with their creations for over 25 years. They have left a mark on the Slovenian music scene with pieces such as Voda (Water), Čas (Time), Plešeš (You're Dancing), and Tiho (Silently).
MUSIC IN THE CITY
Music in the City remains a welcome fixture of the festival scene. This season, it started already in the spring months as part of the pre-festival events, in the picturesque atmosphere of Bodi Coffee Shop and with performers Lilamors (Ana Čop), birds of unknown, Fed Horses, and Čedahuči.
The summer continuation of Music in the City will take place in MuziKafe Home of Culture where the trio Črnčec / Mičetić / Kostadinović (SI, HR, SRB) will perform. The internationally renowned musicians will present a repertoire of their own compositions and well-known jazz standards and originals.
STAGE OF YOUTH
The Stage of the Youth has been providing a platform for younger and talented creators for many years. Vocalists from the summer music school, indie rockers the tree man band, original and witty vocalists OD5 QUARTET, and punk rockers Fat Butlers will all perform at the free events.
CHILDREN'S FESTIVAL
The Children's Festival stands at the heart of musical events designed for the youngest attendees. Through engaging workshops, musical fairy tales, musical yoga sessions, an interactive fantasy show, and cinema, children will immerse themselves in the world of music and have a delightful, educational experience exploring music and various musical instruments.
ACCOMPANYING PROGRAM
In conjunction with the jubilee season, the festival offers a particularly varied accompanying program, including culinary events (Odprta Kuhna, a renowned open kitchen food market), a musical and fairytale evening with musical guests Luka Ovsec and Šmentane Muhe (Darn Flies), a summer music school, a musical poetry concert by Ditka and Feri Lainšček, two festival afterparties with live music (New Ex and Laganini), and two additional concerts which will extend the festival events all the way to Ljubljana: Daniel Caccia & Organ Trio (HR, NL, SI) and Širom, organized in cooperation with Imago Sloveniae.
More details about the program are available at www.festivalarsana.com. For additional information, we are available at +3865 995 50 41 (from Monday to Friday between 9 a.m. and 5 p.m.) or info@arsana.si.
FB: /festivalarsana IG: /arsanafestival