ALL AROUND JAZZY TRIO (SLO)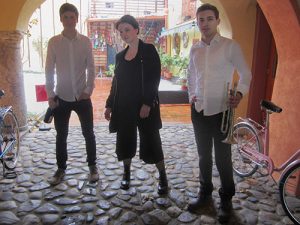 9.30–11.00 PM, SLOVENIAN SQUARE  Free!
Performing: Katarina Samobor – vocal, Jure Pišek – guitar, Aljaž Bojnec – guitar
A group of young Ptuj's musicians, who were all educated from classical and jazz music by Ptuj's menthors, and they play in many different musical assemblies, like rock, pop and many other musical genres.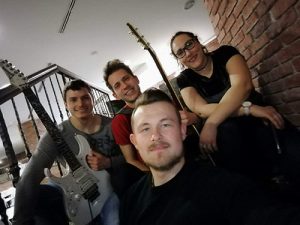 QUATRO SWING
 9:30-11:00 PM, SLOVENIAN SQUARE  Free!
Quatro Swing is a band of locals from Ptuj: Mojca Ljubša (vocal), Vid Ciglar (guitar), Rok Ciglar (cajon) and Tilen Vidovič (electric guitar). The band was started by Mojca and Vid as a duet, performing at local events and weddings. Later Rok joined them, who added his own style and in december 2017 Tilen joined the group with his sound on the electric guitar.
NINA IN NAJA FRIDL
 AT 9.30-11.00 PM, SLOVENSKI TRG  Free!
Sestri Fridl sta pripravili zanimiv poletni program, ki vas bo popeljal v romantično poletno noč. Naja Fridl je letošnja zmagovalka Otroci pojejo slovenske pesmi in se veselijo, Nina pa je ptujsko občinstvo navdušila s solistično vlogo v muzikalu Metuljev efekt. Sestri, najboljši prijateljici, partnerki v "kriminalu" zase pravita da, brez nič ni nič", zato pridite in preverite njun karizmatičen nastop ob spremljavi kitare.
EVELINA SORŠAK "CROSS OVER"
 AT 9.30 PM, SLOVENIAN SQUARE  Free!
Evelina Soršak is a young vocalist, who introduced herself with her soloist role in the youth musical Butterfly Effect. She participates in various activities related to music. She also participated at the international vocal jazz camp with the New York Voices as one of the scolarship winners. She performed at many different social, cultural events and fashion shows. For this occasion Evelina prepared a colourful "CROSS OVER" programme, which will take you soaring to the stars of a summer night.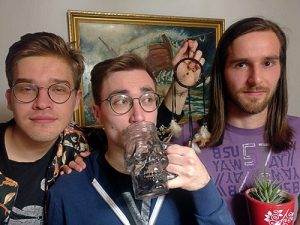 BLASIUS
 AT 9.30 – 11:00 PM, SLOVENIAN SQUARE  Free!
Blasius is a music band, formed in 2017 by Blaž Vidovič and Dominik Širovnik. They play classical rock. In the year 2018 they started making original music, which is going to be published in the near future.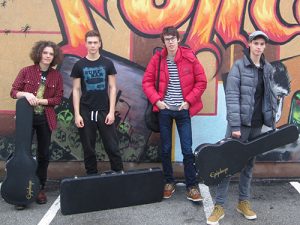 GUITAR TRIBUTE TO ROCK & BLUES
 9.30 – 11:00 PM, SLOVENIAN SQUARE   Free!
Performing: Luka Gašparič – guitar, vocal, Vid Žirovnik – guitar, Gal Jeza – guitar, Vito Levstik – guitar
Young Ptuj's musicians, who are training for many years with very well known pedagogue and guitarist Marko Korošec, are going to introduce themselves with selections of guitar giants like Jimi Hendrix, Santana, B. B. King and many others.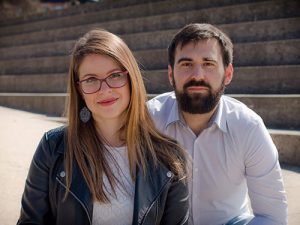 APELA
 9:30 – 11:00 PM, SLOVENIAN SQUARE  Free!
Performing: Špela Brumen – vocal, Aleksander Živko – piano
Špela and Aleksander are working on acoustic adaptations of famous pop and rock songs. Their ideas derive from pop, classical and jazz music, representing the songs with a fresh view. They are perfectly complementary with their mastery of the instruments and vocals. We will hear music of Bruno Mars, Ed Sheeran, latino music alongside gentle and sensual ballads.