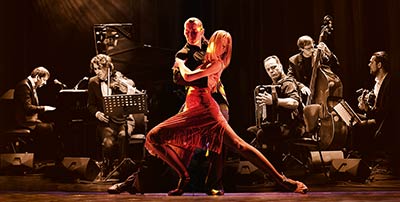 TANGO STORY & IRENA YEBUAH TIRAN feat. A. Podlogar in B. Bertoncelj
At 8.30 pm., Grajska pristava Ormož,  Price: 10 €, 12 € 
Performing: Borut Zagoranski – accordeon, Matija Krečič – violin, Mladen Delin – piano, Marko Korošec – guitar, Žiga Golob – double bass, Andreja Podlogar & Blaž Bertoncelj – dance, Irena Yebuah Tiran – soprano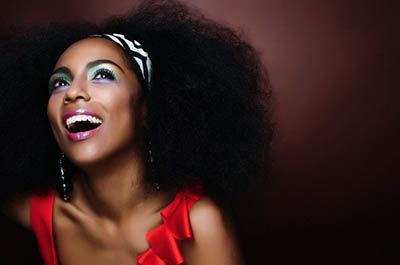 TANGO STORY is a project of the European Capital of Culture Maribor 2012 – Ptuj. Together with world-renowned violinist Stefan Milenkovich, they have performed on the biggest stages in Slovenia, Bosnia and Herzegovina, and in Croatia, while having a very successful US tour. This time, they are returning in a revamped session with accordion virtuoso Borut Zagoransky, exquisite violinist Matija Krečič, legendary contrabassist Žiga Golob, multi-instrumentalist Mark Korošec, and pianist and artistic director Mladen Delin. The tango story is performed with world tango champions Andreja Podlogar and Blaž Bertoncelj. Internationally acclaimed musicians will take you from an old Tang Vieh from pubs and brothels to an evening full of virtuosity and passion that is Tango Nuevo – classic modern tango. The guest singer will be Irena Yebuah Tiran, winner of several awards, soloist and member of several chamber ensembles at home and abroad.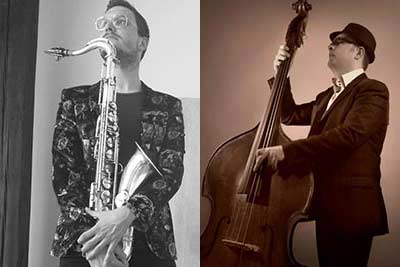 BLAŽ ŠVAGAN & BLUNOUT – SOUND IN TIME TRIO (AT, SLO, HU)
At 9.00 pm., Hotel Mitra, Price: 8 €
Performing: Blaž Švagan – tenor saxophone, Vladimir Kostadonović – drums, Stefan Bartuš – double bass
With the desire to create original music based on jazz, modern and improvised music, innovation, technically demanding performance, and at the same time with the purpose of reproducing the music of the "old masters", Sound in Time trio was created at the end of 2017. Currently, tenor saxophonist Blaž Švagan performs with internationally renowned musicians Vladimir Kostadinović on drums and Stefan "Pišto" Bartuš on double bass.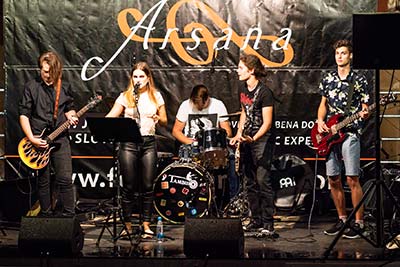 THE GOLDEN FRETS
At 10.00 pm, Slovenian Square, Free
Performers: Nina Fridl – vocal, Luka Gašparič – guitar, Alen Vamberger – guitar, Timotej Bezjak – double bass,  Jernej Bezjak – drums and vocal
The members of the band are musicians who have been dedicated to music in all respects for many years. The desire to create and perform, and good energy, united us into a music group, The Golden Frets. We mainly play old and new rock, but there are also newer songs. We have been working for a good two years, due to various factors some members of the band have changed, but we remain the ones who believe that with hard work and perseverance, music can come to life and come to life.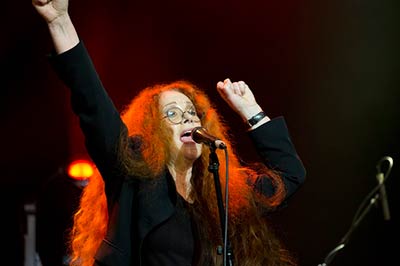 MAČEK MURI IN MUCA MACA
At 11.00 am., The courtyard of the Minorite Monastery, Price: 15 €
Performing: Neca Falk – vocal, Jerko Novak – guitar, Miro Novak – guitar
The music project of Maček Muri and Maca Maca is one of the biggest pearls of Slovenian music production. It is the first contact with music for children and is loved by all generations. This is the power of Kovac's poetry, which tells the stories of our everyday world through the parables of a "cat world". With her exquisite interpretation, Neca Falk has breathed life into all these cats; fat and skinny, hard-working and gangsters, nerds and consumers …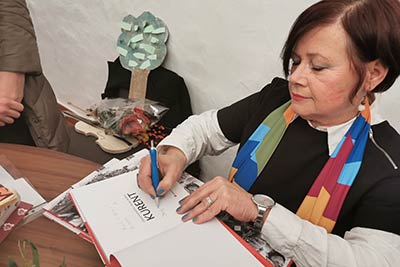 KURENT – Stojan Kerbler, Liljana Klemenčič, Matjaž Antončič
At 6.00 pm., Dominican Monastery – Refektorij, Free
Performing: Matjaž Antončič –  violin
Kurent is a fairy tale about an orphaned boy named Kurent, which first came out nineteen years ago. This year, the book with its folk motifs, came to life on the occasion of the sixtieth anniversary of the carnival event Kurentovanje in Ptuj and will be re-presented for the first time interactively at our festival. It contains the photographs taken by this year's recipient of the Prešeren Award for Lifetime Achievement, Stojan Kerbler. He took these photographs in Ptuj, Haloze, and the surrounding area. A valuable collection of recordings that subtly reveals the local folklore was being created from the 1970s until today. The story of Liljana Klemenčič, who, as a fairy-tale writer and a bibliopedagogue paints with words, can be read in three languages, Slovenian, English and German.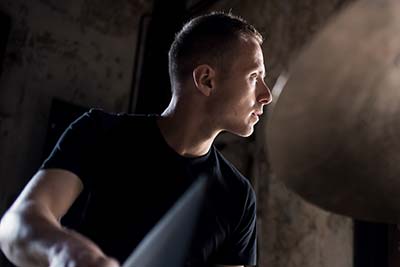 THE PORT OF LIFE II. – ENSŌ
At 9.00 pm., The courtyard of the Minorite Monastery, Price: 15 €
Performing: Lenart Krečič –  saxophone and bass clarinet, Ana Čop – vocals, Tomaž Gajšt – trumpet, Jani Moder – guitar, Marko Črnčec – piano, Miha Koren – double bass, Jean John – drums and percussion Janus Atelier string quartet: Matija Krečič – 1st violin, Nejc Avbelj – 2nd violin, Barbara Grahor – viola, Zoran Bičanin – cello
A musical work entitled "The Port of Life II. – Ensō ", which intertwines the psychological experiences of an immigrant in the later stages of acculturation through a conceptually set musical suite and describes his long path to cultural marginalization, is the compositional work of the award-winning Slovenian composer Žan Tetičkovič, who lives between New York and Barcelona. The Port of Life II. Enso is the successor to the project The Port of Life (2016), for which Žan received the prestigious "2017 ASCAP Foundation Johnny Mandel Prize.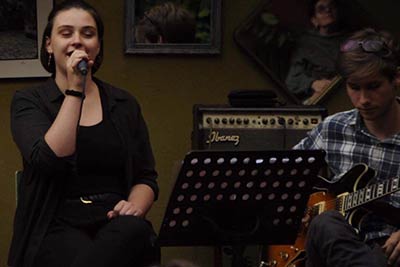 KATARINA SAMOBOR & JURE PIŠEK 
At 10.00 pm., Slovenian sqare, Free
The repertoire of the young duo coming from Ptuj ranges from blues, jazz, bossa nova to Slovenian songs. Vocalist Katarina Samobor and guitarist Jure Pišek will perfrom carefully conceived arrangements, and work on different musical styles and periods of music from all over the world. The musicians were trained in both classical and jazz music by renowned mentors, while playing in different musical compositions from rock, pop and many other genres of music.
TROLI NA SVETOVNI TURNEJI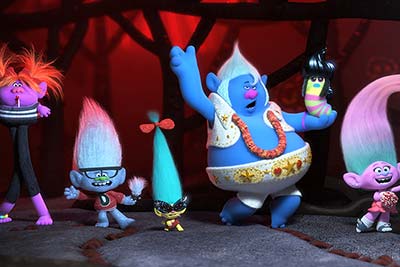 At 10.00 am., Ptuj City Cinema , Price: 3 EUR
The 2016 hit Trolls got a sequel, as little creatures who love dancing and music return to the big screens. The Trolls will realise through new adventures that they are not alone: There are five different Troll tribes besides them, each with its own genre of music.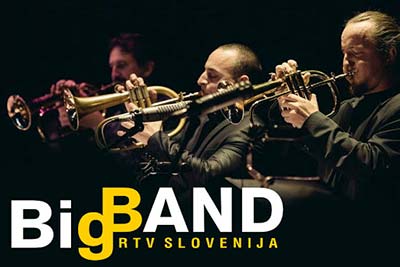 BigBand RTV SLO s solisti
At 8.30 pm., The courtyard of the Minorite Monastery, Price: 20 €
Conductor: Tadej Tomšič
Soloists: Klemen Slakonja, Maja Keuc, Ana Soklič, Alenka Godec in Rudi Bučar
The ARSANA Festival will enter its 12th edition with a spectacular concert by the first jazz orchestra – the Big Band of RTV Slovenia, under the baton of conductor Tadej Tomšič. Famous names of the Slovenian music scene will perform at an exclusive evening for music connoisseurs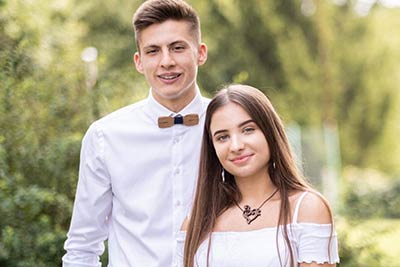 SAIN DUET
At 10.00 pm., Slovenian sqare, Free
Performing: Sara Brumen – vocal, Kevin Toplak – vocal and guitar
The two young musicians from Ptuj will perform acoustic adaptations of songs that aim to reach as many people as possible as part of their musical story. They have already performed on several stages, such as: The Infinitus concert, open-mic night at Dooplek wake park, they participated in the Music Star of Styria organised by Radio Rogla and at the Show What You Know in Dobje, where they won first place after jury evaluation.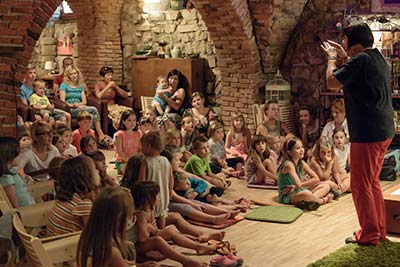 MUSICAL FAIRYTALES
At 5.00 pm., Home of Culture Muzikafe, Free
MUSICAL FAIRYTALES
Performing: Liljana Klemenčič 
Performing: Zasebna glasbena šola Minoritskega v samostanu sv. Petra in Pavla Ptuj.
Ko zapoje lovski rog, tekajo zajci naokrog.
Rogisti so instrumentalisti, ki spodbujajo, veselje in ponos vzbujajo.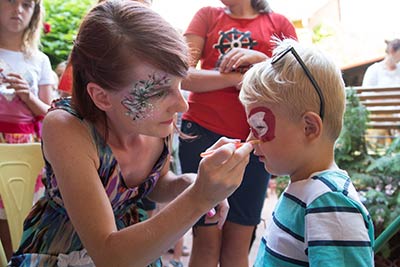 FACE PAINTING
At 6.00 pm., Home of Culture Muzikafe, Free
Creative workshop
Izvajalka: Vesna Kamenšek
At the workshop, children will be transformed into magical creatures. With professional face paints, we will be able to paint a variety of creatures. While drawing, we tell the story of what they are changing into, how the animals or persons who they will become behave, etc. In this way, we will transform the painting into a true little experience.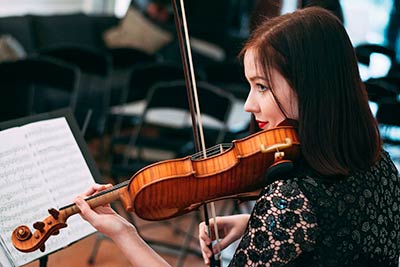 RECITAL: Ana Julija Mlejnik & Tanja Činč
At 7.00 pm., Festival hall of Ptuj Castle, Price: 10 €
A violinist Ana Julija Mlejnik and a pianist Tanja Činč both recorded successes on international stages. Ana performed as a soloist with the orchestra in London, Paris, Tokyo, Brussels, Ancona, Toronto, and Ljubljana. She has shared the stage with many great musical names, such as maestro George Pehlivanian, maestro Bartolomey Henry Van De Velde, Yuzuko Horigome and others. She is also the Artistic Director of the Loka da Camera Chamber Music Festival in Škofja Loka. She won the first prize at the International Competition for Young Musicians in Genoa. While performing in chamber ensembles she is also a permanent member of the London Brandenburg Soloists.
Tanja received the Škerjančeva Award for her artistic achievements at the Ljubljana Music and Ballet Conservatory as well as the Prešeren Award of the Ljubljana Academy of Music. She is currently a piano post-graduate specialist student at the Academy of Music in Zagreb in the class of prof. Ruben Dalibaltayan and as a member of the piano trio Rêverie a student of the MA in chamber music at the University of Music and Performing Arts Graz in the class of prof. Chie Choua.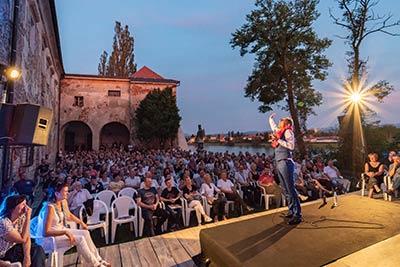 TADEJ TOŠ; Stand-Up
At 8.30 pm., Dominican monastery, Price:  15 €
Tadej Toš, local stand-up comedian and actor, is now an old friend of the Arsana Festival. Every year, he surprises us with new and original stories, which he is probably not going to run out after this year's turbulent time. In his shows, Toš mocks the seriousness of human reality, which he believes is one way to defend himself against the automation and senseless robotization of life.
Get ready for a good show!
HINOTAMA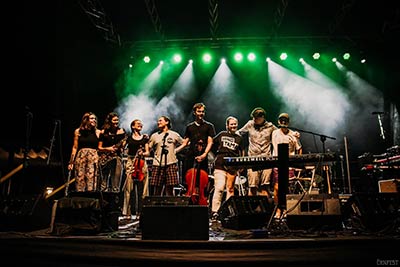 At 9.30 pm., Slovenian square, Free
Performing: Hana Fatur – piano and vocal, Staš Planinšek – drum, Boaz Novšak – el. Guitar, Aljaž Luci –cello, Eva Domitrovič – alt sax,  Lucija Mikuž – flute, Rok Ljubič – bass, Lara Fatur –  violin
Hinotama is a funky pop band whose repertoire has everything from pop to classic funk pieces. You will recognize them by their jazz and classic renditions of interesting covers and original pieces. Their most recognizable attribute, however, is the "crowd on stage" as the band has 8 members.
Perhaps because of their special composition and style, and undoubtedly because of the crazy energy on stage, they quickly won the hearts of young Ljubljana audiences and juries in various music competitions. They had a performance at Vičstock, won the 12th Music Festival, and received the awards for Best Performance, Singer and Style at Droogstock in Maribor. In August 2019, they performed at the Blackfest, where they warmed up the audience for Hamo and tribute to love. In November, in collaboration with the Novi Dijak, they performed a solo concert at the hostel Tresor. In February 2020, they played their solo concert at the Prulček Bar in Ljubljana.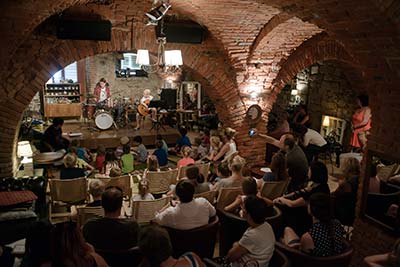 MUSICAL FAIRYTALES
At 5.00 pm., Home of Culture Muzikafe, Free
Musical Fairytales
Performing: Liljana Klemenčič 
Performing: Instrmental.ko glasbena šola Marka Korošca
Le kako, le kako, lahko tako tiho kitarske strune zvenijo?
Kaj pa to, kaj pa to, ko se oglašajo tako zelo močno?
Glasbena pravljica z Liljano Klemenčič in glasbeno šolo Instrumental.ko / Predstavitev učbenika za električno kitaro: ptujska pravljičarka Liljana Klemenčič bo predstavila otroško glasbeno pravljico, v kateri bo glavno vlogo odigrala kitara, skladbe nanjo pa bodo zaigrali učenci glasbene šole Instrumental.ko. Na koncu bo sledila še kratka predstavitev nove avtorske knjige za električno kitaro, ki jo je napisal kitarist in pedagog Marko Korošec in je izšla v založbi Artomatik.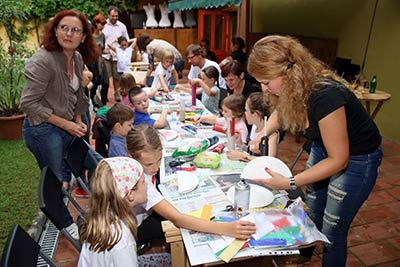 MAKE MUSIC INSTRUMENT ON YOURSELF
At 6.00 pm., Home of Culture Muzikafe, Free
Creative workshop
Performing: Eva Vilčnik
Music accompanies us in different ways every day of our lives. Rattles, drums, xylophones, maracas and many other instruments can be made on our own. This time the music experience will be unique, especially if you bring goodwill, creativity and lots of music suggestions. The workshop will be age-adjusted for preschoolers.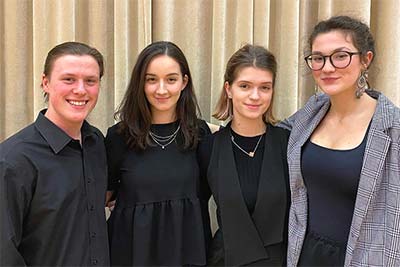 GODALNI KVARTET AMEBA
At 7.00 pm., Festival hall of Ptuj Castle, Price: 10 €
The "Ameba" quartet consists of students from the Ljubljana Conservatory of Music and Ballet – violinists Timotej Willewaldt and Ana Močnik, violist Patricija Malovrh Mlačnik and cellist Lora Kozlevčar. They started their activities in 2019, since then they have been appearing regularly on school and extracurricular stages, and in the spring of 2020 they also became the winners of the national competition of chamber groups TEMSIG. Their repertoire includes everything from early classicist works, romantic compositions and also contemporary works by Slovenian composers. Their mentor is prof. Zoran Bičanin.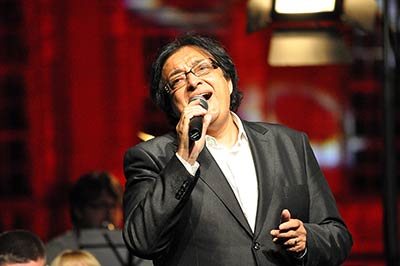 HEARTBREAK HOTEL: Oto Pestner & Uroš Perić feat. Bluenote Quartet 
POKLON KRALJU ROCK'N'ROLLA, ELVISU PRESLEYU
At 8.30 pm., The courtyard of the Minorite Monastery, Price:  15 €
Join us on an adventure to the unforgettable rock and roll era of Elvis Presley! The broken hearts of Heartbreak Hotel will be warmed up with interpretations by two of Slovenia's top vocalists Oto Pestner and Uroš Perić. Accompanied by The Bluenote Quartet, they will make a dazzling tribute to the King of Rock 'n' Roll and take visitors through a rich set of evergreen hits by the immortal King and other tracks by legendary musicians who have captivated audiences in the 1950s and 1960s.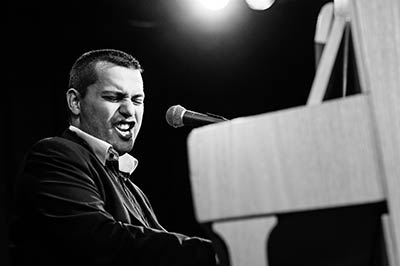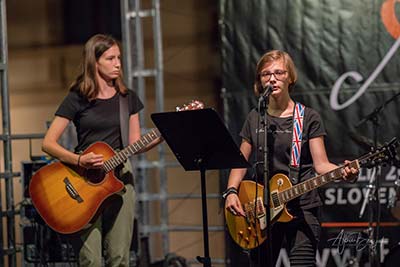 ROCK MARATON – Instrumental.ko
At 9.30 pm., Slovenian square, Free
The energetically packed evening, dedicated to music legends such as The Beatles, Eric Clapton, Jimi Hendrix, Dire Straits and Red Hot Chili Peppers, will feature three young high school bands performing under the baton of renowned educator and guitarist Marko Korošec.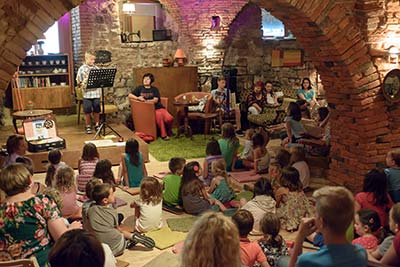 MUSICAL FAIRYTALES
At 5.00 pm., Home of Culture Muzikafe,  Free
Performing: Liljana Klemenčič
Performing: Vokalna glasbena šola Arsana, Mentorica: Ana Delin.
Človeško telo je najstarejši glasbeni instrument, glas in petje pa je bilo od nekdaj srca in duše zavetje.
 DREAMCATCHER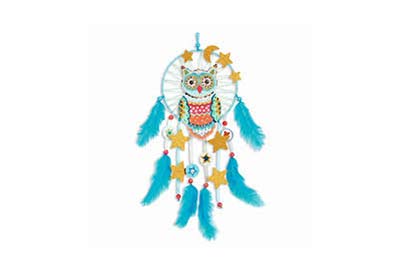 At 6.00 pm., Home of Culture Muzikafe, Free
Performing: Mojca Grula
The dream catcher is an object shaped like a ring made of willow branches. It is involved with a net of thread or string, decorated with feathers. It is found as a decoration in many bedrooms, and few know the origin of this fascinating object. The Indians believed the dream was a message from ghosts from beyond. In their culture, dream catchers are attracting dreams to their nets. Such good spirits travel through the openings between the threads in the dream catcher and hover over the hallowed feathers over the sleeping people. The bad spirits were supposed to get trapped in nets and then disappeared on the first morning rays.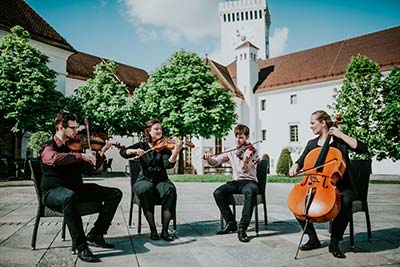 GODALNI KVARTET EMONA
 At 7.00 pm., Festival hall of Ptuj Castle, Price: 10 €
The EMONA String Quartet was officially created in September 2018. Previously, they had worked together in a piano quintet with pianist Alvin Cucic, led by Miha Haas. As a quartet, they have performed at many music evenings and festivals, training with various professors such as Janez Podlesek, Emile Cantor, Goran Bakrac, Wendy Enderle – Champney. All members of the quartet, as soloists, successfully participate in domestic and foreign competitions, regularly participating with renowned orchestras and choirs in Slovenia, including the Slovenian Philharmonic, RTV Symphony Orchestra, SNG National Opera,…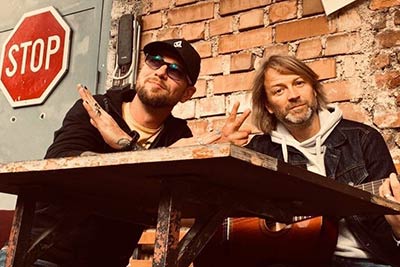 1NA1: Gušti & Tomi Meglič 
At 8.30 pm., The courtyard of the Minorite Monastery, Price: 15 €, 20 €
The Arsana Festival presents a musical dialogue between two champions of Slovenian concert rock authors who practically wrote in the 1990s and laid the foundations of Slovenian love rock lyrics with Črni tulipan and Platina. Once music rivals, this time collaborators on stage, will evoke memories and seek new dimensions of notes and poetry. Tomi Meglic and Miha Guštin Gušti one-on-one about music, through music. An exclusive musical treat that is not to be missed.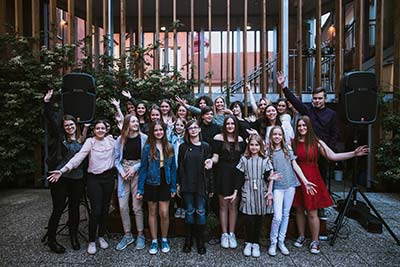 PERFORMANCE OF PUPILS FROM VOCAL SCHOOL ARSANA
At 9.30 pm., Slovenian square, Free
Young, aspiring artists will take the stage on Slovenian Square, and make sure to keep the energy up even after the festival highlights. Students from Arsana Vocal School will be introduced, finalists and winners of various singing competitions. You will be able to listen to the famous tunes of Slovenian and foreign songs of pop, rock and r'n'b genres.
CIRKUS ARBADAKARBA
Artistic performance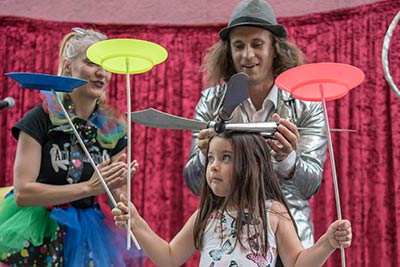 At 6.00 pm, Home of Culture Muzikafe, Free
Performing: ZUM Kreativa
Tina and Matjaz come from the real Circus of Arbadakarba, and will once again awaken your creativity. Balloons, juggling, balancing… Everyone is invited to a magical adventure full of circus and acrobatics.
MOMENTO CIGANO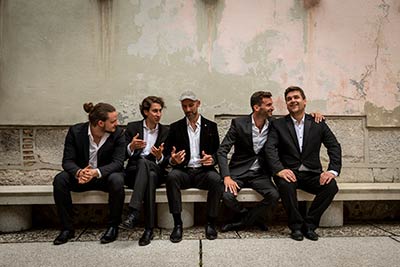 At 7.30 pm., Home of Culture Muzikafe, Price: 12 €
Performing: Teo Collori – guitar, Matija Krečič – violin, Matej Kužel – clarinet, Metod Banko – guitar, Jošt Lampret – bass
Momento Cigano is a group whose music incorporates many genres – dance swing music, jazz, classical, movie music… It is a project where nostalgia is interwoven with new stories as the musicians take us to the period of salons, cigars, charleston and lacquered shoes. Their first record Hot Club Piran was released by the US record label Lowtemp and was awarded for the album of the year 2016 (MuzikObala). The song titled Bled 1960 from their second album, Kamerato Muzikante, was selected for the song of the year 2018 on Naše poti on Prvi program radio Slovenija. This year they are launching a new record entitled Molto Aligatore.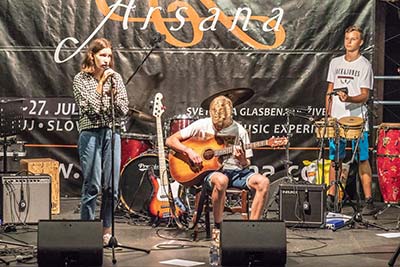 FINAL CONCERT OF THE SUMMER MUSIC SCHOOL
At 8.30 pm., Slovenian square, Free
At the end of the summer school, the Arsana vocal school and the Instrumental.ko music school have put together a short program where the musicians will show what they have learned during the holiday school. You are invited to listen to what the students have prepared with their mentors.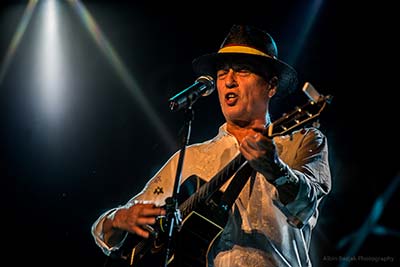 VLADO KRESLIN
Guests: IZTOK CERGOL & MILAN KRESLIN
At 9.00 pm., The courtyard of the Minorite Monastery, Price: 18 €
A man with a black guitar returns to the city of millennia. The artist has already released twenty-seven albums with original music, several poetry collections, appeared in film and theater as a music writer and as an actor. Many of his poems have become wildly popular, and some have become the inspiration for novels, feature films, and dissertations. He is also a member of the Slovene Writers' Association.
Together with special guests, he will show that Rock'n'Roll has a thousand faces and that it sounds different inBeltinci than in Nashville
SEVERA GJURIN WITH THE CAST
Guest: Gal Gjurin
At 8.30 pm., Grajska pristava Ormož, Price: 12 € 
Performing:  Severa Gjurin – voice and guitar, Dejan Lapanja – guitar, Uroš Rakovec – guitar, Žiga Golob – ouble bass, Blaž Celarec – drums
The musician Severa Gjurin will perform in a joint intertwining of the cooperation between the Arsana Festival and the Ormož Tourist Board. Her exceptional voice is accompanied by a quartet of excellent, seasoned musicians.
The acoustic ensemble performed for the first time in 2012, and soon afterwards sold-out concerts around Slovenia followed. They perform with a colorful repertoire that, in addition to Severina's new songs, such as Is There More Space in the South, Mills and Winds, Sej vame, Music for Grandmothers and As if Nothing Happened, interprets many elements of Severina's musical history in their own way. The band consists of musicians who have a wide range of activities in music. Each brings its own sound and content, they are committed to form, feeling and interpretation.
The guest of the evening will be multi-instrumentalist and singer Gal Gjurin.