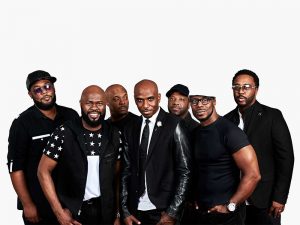 NATURALLY 7 (USA)
 AT 8.30 PM, THE COURTYARD OF THE MINORITE MONASTERY  35 €, 39 €
Roger Thomas (1st baritone, rapping), Warren Thomas (percussion, guitar, clarinet, third tenor), Rod Eldridge (first tenor, scratching, trumpet), Napoleon "Polo" Cummings (fourth tenor, guitar), Dwight Stewart (second baritone, vocals, trombone), Garfield Buckley (second tenor, accordion) in / and Armand "Hops" Hutton ( bass).
Naturally 7 with Canadian singer, Michael Bublé has had three world tours in more than 25 countries, and in front of 4 million fans.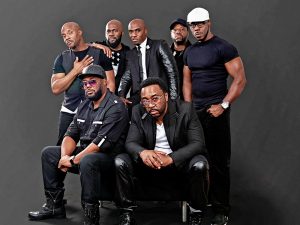 NATURALLY 7 are the kings of a capella music and are one of the most important vocal bands in the world. They simulate the sounds of an instrumental band using only their voices, mouths and distortion effects sounding like drums, guitar, trumpets, and keyboards. Some of their biggest successes were interpretations of world hits from the repertoires of Coldplay, Quincy Jones, Herbie Hancock, Queen, Xavier Naidoo, Sarah Connor, Helen Fisher, Phil Collins, Diane Ross and Michael Bublé, with whom they recorded four duets. Some of their greatest hits are important interpretations of international hits of Phil Collins, In The Air Tonight, Coldplay epic hit Fix You and another bestseller Wall of Sound. Their seventh studio album is another success filled with rich harmonies and exceptional vocals of eternal classics like Anton Dvorak, Paul McCartney, Simon & Garfunkel, Joni Mitchell, Sting, and Adele.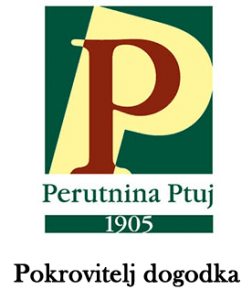 ALL AROUND JAZZY TRIO (SLO)
 AT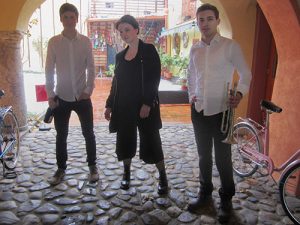 9.30–11.00 pm, SLOVENIAN SQUARE  Free!
Performing: Katarina Samobor – vocal, Jure Pišek – guitar, Aljaž Bojnec – guitar
A group of young Ptuj's musicians, who were all educated from classical and jazz music by Ptuj's menthors, and they play in many different musical assemblies, like rock, pop and many other musical genres.
WITH PERCUSSION AND SONGS AROUND THE WORLD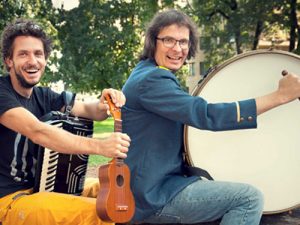 AT 10.00 AM, HOME OF CULTURE MUZIKAFE  5 €
Izvajalec: Franci Krevh & Marko Brdnik
Je pripravljena avtorska glasbena predstava, katere namen je na zanimiv in poučen način predstaviti tolkala iz različnih delov sveta. V predstavi se bomo podali na domišljijsko potovanje okoli sveta, spoznali navade določenega okolja ter z njimi povezana tolkala ter nato skupaj s harmoniko in otroci zapeli njim že znane pesmi.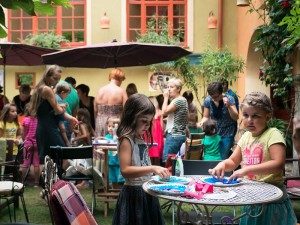 CREATIVE WORKSHOP
 AT 11.00 AM, HOME OF CULTURE MUZIKAFE   Free!
Izvajalec: Franci Krevh & Marko Brdnik
VEGETARIAN BAZAAR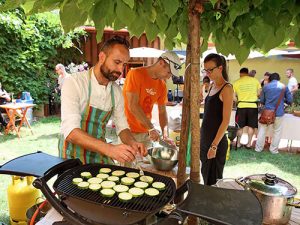 AT 11.00 – 15.00, HOME OF CULTURE MUZIKAFE   Free!
At the courtyard of Home of Culture MusiKafe we will host the 7th vegetarian bazaar this year, with many delicious food, and that even meat lovers will be impressed. All collected voluntary contributions of Potuj society will go to charity purposes. This year, there will be meals available from more than 25 organizations, individuals and caterers, which shows that it is very easy to cooperate when it goes for charity.
NEW SONG EVENING (SLO)
 AT 8.30 PM, THE COURTYARD OF THE MINORITE MONASTERY   15 €
The project is dedicated to the musical poetry of writer and poet Rok Vilčnik, who wrote texts for many of the best Slovenian musicians. Many famous jazz musicians participated in this project, namely Igor Bezget, Sebastijan Duh, Ana Bezjak, Tadej Krampl, Tomaž Gajšt, Bruno Domiter, Mirna Bogdanović, and composer Gregor Stermecki. At the project, there will be additional guests performing, like Pliš, the legend of Slovenian music Severa Gjurin, and actor/singer/author Bilbi. The event will be hosted by popular radio journalist Jure Longyka. This will be an excellent musical evening of the author's music and poetry.
VID JAMNIK & URGENT DETERGENT (SLO, USA, CRO)
 AT 8.00 PM, HOTEL MITRA  5 €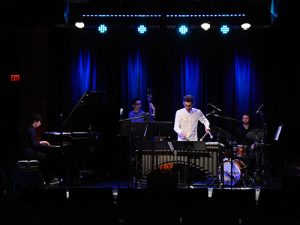 Performing: Vid Jamnik – vibrafon, Mátyás Bartha (HU) – piano, Vasilis Koutsonanos (GR) – base, Oleg Markov (UA) – drums
Urgent Detergent is an international quartet of vibraphonist Vid Jamnik, established in 2014 at Berkley College of Music in Boston, where their members met each other while studying. The band represented Berkley on a tour in France and recorded a compilation cd for the school publishing house Jazz Revelation Records, representing the best student compositions and bends. Urgent Detergent ranked into finals of EBU European Jazz Competition in the Netherlands despite switching members of the band . Urgent Detergent remains faithful to vibrafon-piano-base-drums instrumentation and playing original music.
QUATRO SWING
AT 9.30 – 11:00 PM, SLOVENIAN SQUARE  Free!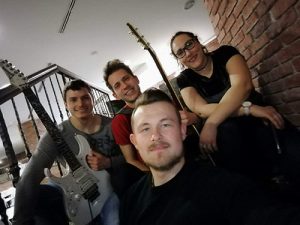 Quatro Swing is a band of locals from Ptuj: Mojca Ljubša (vocal), Vid Ciglar (guitar), Rok Ciglar (cajon) and Tilen Vidovič (electric guitar). The band was started by Mojca and Vid as a duet, performing at local events and weddings. Later Rok joined them, who added his own style and in december 2017 Tilen joined the group with his sound on the electric guitar.
CINEMA GARDEN – SING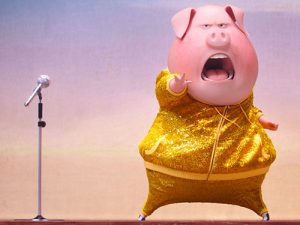 AT 10.00 AM, CINEMA  PTUJ   3 €
(Sing, Garth Jennings, ZDA, 2016, 110 min, sinhronizirano v slovenščino)
Izvajalec: Mestni kino Ptuj
Koala želi rešiti gledališče, ki se utaplja v rdečih številkah. Organizira pevsko tekmovanje, na katerega se prijavi nepregledna množica živali … Animirana komedija o pevskih talentih živalskega kraljestva, v kateri bomo prisluhnili kar 85 glasbenim uspešnicam, je filmsko-glasbena poslastica za vso družino.
Projekciji filma bo sledila mini pevska delavnica pod vodstvom vokalne pedagoginje Ane Delin.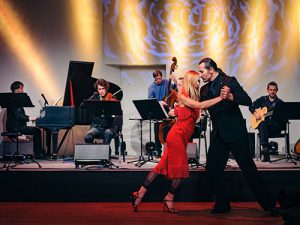 TANGO STORY & IRENA YEBUAH TIRAN WITH GUESTS: ANDREJA PODLOGAR & BLAŽ BERTONCELJ (SLO)
 AT 8.30 PM, THE COURTYARD OF THE MINORITE MONASTERY  15 €
Guests: Andreja Podlogar & Blaž Bertoncelj
Borut Zagoranski – accordion, Matija Krečič – violin, Mladen Delin – piano, Marko Korošec – guitar, Žiga Golob – double bass, Andreja Podlogar & Blaž Bertoncelj – dance, Irena Yebuah Tiran – mezosopran
TANGO STORY is a project of European Capital of Culture Maribor 2012 – Ptuj. Together with world famous violinist Stefan Milenkovic it was perfomed on the biggest stages of Slovenia, Croatia, Bosnia and Herzegovina, and have had very sucesfull tour in the United States.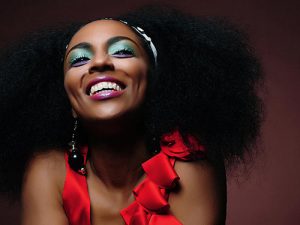 This time in all-new version with virtuoz Borut Zagoranski on the accordion, excellent violinist Matija Krečič, and legendary double bassist Žiga Golob, multi-instrumentalist Marko Korošec, and pianist and artistic leader Mladen Delin. In the story of tango 2 world champions in tango will be performing, Andreja Podlogar and Blaž Bertoncelj. These internationally well established musicians, in the evening full of virtuosity and passion, will take you from old Tango Vieho from taverns and bordels to Tango Nuevo, classical contemporary tango. The singing will do internationaly recognized Slovenian soprano singer, Irena Yebuah Tiran. 
VOLTURE FOREST (CRO/SLO)
 AT 7.00 PM, HOTEL MITRA    5 €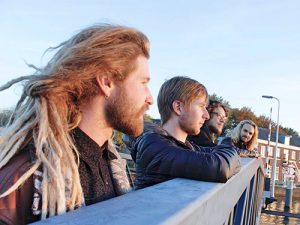 Performing: Kristoffer Vejslev – guitar, James Mclure – trumpet, Luka Benčič – Double bass, Love Ekenberg – drums
The double bass player Luka Benčič, is a student of jazz music at the academy in Amsterdam and with his international band is presenting the original project Volture Forest, bordering on the blissful and melancholy, the calm and restless, which resonates in the album Vulture Forest – a tribute to the forest, and a reference to inevitability of stressful life of this century. It consists of meditative guitar melody, in the companion of aggressive trumpet, double bass, and drums.
MUSIC FAIRY TALES BLOWER & BRASS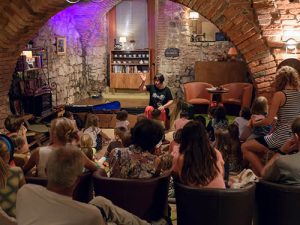 AT 5.00 PM, HOME OF CULTURE MUZIKAFE  3 €
Izvajalec: Liljana Klemenčič in učenci GŠ Karol Pahor
Pihala so na zrak,
kar ne zna vsak,
trara, trara,
pravljica se k vam pelja!
CREATIVE WORKSHOP – POTTERY
 AT 6.00 PM, HOME OF CULTURE MUZIKAFE  Brezplačno!
Izvajalec: Zavod Marianum Veržej – Center DUO, www.marianum.si
Naj glina začara tudi vas! Glina, ki izpod spretnih prstov, na vrtečem se vretenu, dobiva obliko bidre, lonca ali šalčke, bo pri prvem stiku nudila občutek ugodja, ustvarjalnosti in brezmejnega uživanja. Za piko na i boste vaš izdelek pobarvali še z engobo! Pustite svoj pečat za prihodnje generacije arheologov!
GLOBAL MUSICAL VILLAGE , TRIO FLUTE, HORN, PIANO (CRO, SLO)
 AT 7.00 PM, THE FESTIVE HALL OF THE PTUJ CASTLE  10 €
Performing: Nikolina Kovač – flute, Lovorka Nemeš Dular – piano, Robert Petrič – horn
Flutist Nikolina Kovač Juvan, pianist Lovorka Nemeš Dular and hornist Robert Petrič encouraged young Slovenian composers, Črt Sojar Voglar, Igor Krivokapič, Andrej Makor, Tine Bec, to name a few: to create new compositions for this unusual performing group. Robert Petrič highlights that music shouldn't become museum art, and that there should always be emerging new musical works. They applied the project to Kickstarter and believe it will encourage other bands to do something similar, and alsos the project may open the doors for Slovenian composers abroad. »We wanted to professionalize all parts of production in the music, from composing, through to the artist and producer« Petrič said. Their main guidance is to get original compositions for flute, horn, and piano. As he explained, Slovenians don't have direct access to the platform, an intermediary from the US enabled it, and from there they have already have an offer of 2 composers to write them a song.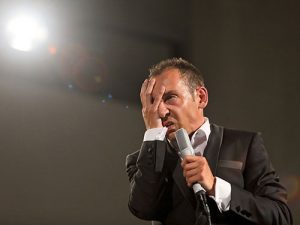 TADEJ TOŠ – STAND UP SHOW (SLO)
 AT 8.30 PM, HOTEL MITRA   15 €
Now already loyal friend of our Arsana festival, Tadej Toš is suprising us every year with new original stories originating from the stage. We know he is ours. We know he speaks fast and a lot. In his shows, Toš is making fun of even the most serious life situations – which is, by his opinion, one of the ways to guard against automatization and the insensitivities of life. He can't wait to step on our stage again.
MARKO ČRNCEC TRIO (SLO, USA, ITA)
 AT 8.00 PM,  HOME OF CULTURE MUZIKAFE  8 €
Performing: Marko Črnčec – piano, Fender Rhodes. Myles Sloniker – double bass, Francesco Ciniglio – drums
Marko Črnčec is one of the most recognized contemporary musicians and Slovenian exports. Internationally, he is known as a phenomenal multi-instrumentalist, composer, arranger and producer, who works in several genres, especially jazz and popular music. He currently lives and works in New York. At Arsana festival Marko will present himself with his latest trio, in which he collaborates with outstanding musicians: American Myles Sloniker and Italian Francesco Ciniglio. Both of them are among the most invited jazz musicians of the New York jazz scene. They will present compositions under the pens of all three musicians. Come and experience New York's musical spirit!
MUSIC FAIRY TALES – BALLET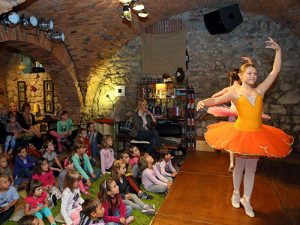 AT 5.00 PM, HOME OF CULTURE MUZIKAFE  3 €
Izvajalec: Liljana Klemenčič in učenci GŠ Karol Pahor
Deklica drobna in mila,
je na konice prstkov stopila,
nežno je poskočila, zaplesala,
saj balerina bo postala.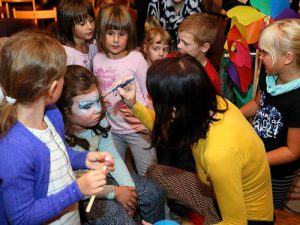 CREATIVE WORKSHOP –  FACEPAINTING

 AT 6.00 PM, HOME OF CULTURE MUZIKAFE  Free!
Izvajalec: Tjaša Čuš
CHAMBER CHOIR KGBL – SACRED & PROFANE (SLO)
 AT 7.00 PM, THE FESTIVE HALL OF THE PTUJ CASTLE  12 €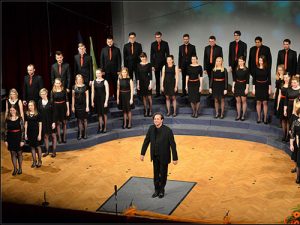 The repertoire of choir KGBL, lead by Ambrož Čopi and his assistants Tine Bec and Evgen Bibianko, is composed by a style and genre variety, from the Renaissance to contemporary music with pecial attention dedicated to Slovenian contemporary composers. In the last three years the choir ordered compositions to eminent composers like Lojze Lebič, Tadeja Vulc, Damijan Močnik, Črt Sojar-Voglar, Peter Šavli, and Andrej Makor, and encouraged the young generation of the composers Tine Bec and Matej Kastelic, accordingly the songs sung by the choir with great success in Slovenia and abroad. At the concert they will present works of Slovenian composers of the last decade. Some were written for the choir KGBL especially and for the first time presented to audiences.. The diversity of music narratives, regardless of sacred or secular content, it is always suprising with sound images, dramatics and poetics.
CHORUS: A DANCE ORGANISM THAT EMERGES FROM THE VOID (SLO)
DANCE PERFORMANCE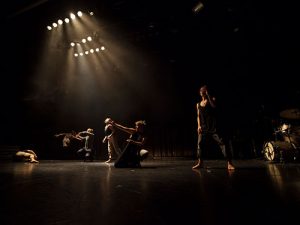 AT 9.00 PM, HOME OF CULTURE MUZIKAFE  10 €
The authors of the dance show Chorus Žigan Krajnčan, Gašper Kunšek and Jan Krmelj joined ideas of a dysfunctional choir as being silent, the possibility of community existence, and dancing research of communication and connecting. The show blurs the borders between contemporary dance and hip hop, which is all the same, only the principles are different. For the show Chorus, they invited friends and dancers from different areas. Kristijan Krajnčan is going to accompany the dancers on drums and cello. Two different musical styles correspond to compensate the different dancing styles; hip hop is based on rhythm and groove, while melodical cello corresponds to modern dance.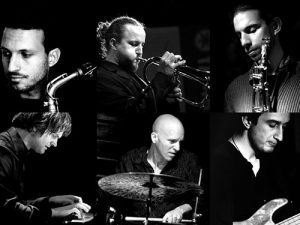 SHARP 6 (SLO)
 AT 8.30 PM, HOTEL MITRA  8 €
Performing: Lenart Krecic – saxophone, Tomaz Gajst – trumpet, Jaka Kopac – saxophone, Gregor Fticar – piano, Miha Koren – double base, Janez Gabrič – drums
Music of Sharp 6 combines elements of classical jazz, jazz-rock, funk, M-base and contemporary jazz. All the members of the group are involved as the authors of the music and repertoire, which contributes to their diversity of music, but at the same time maintain a distinctly common note. The group, who performs original music, stylishly and also accessible to everyone, even to audiences who are not listening to jazz regularly.
MUSIC FAIRY TALES – STRINGS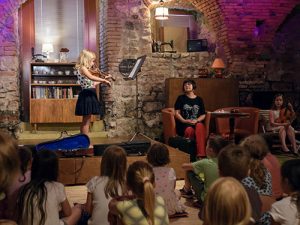 AT 5.00 PM, HOME OF CULTURE MUZIKAFE  3 €
Izvajalec: Liljana Klemenčič in učenci GŠ Karol Pahor
Držijo jo za vrat
in žagajo čez pas,
samo zato,
da spravijo iz nje otožen glas.
Oj, šilo, bodilo,
po svetu hodilo,
ni pilo, ni jelo,
a vendar živelo,
prelepo nam pelo.
CREATIVE WORKSHOP – KNOWLEDGE OF ROMAN COMMANDER AND SOLDIER EQUIPMENT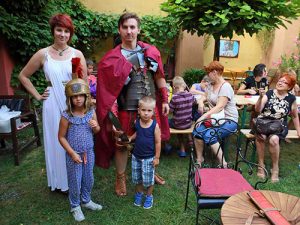 AT 6.00 PM, HOME OF CULTURE MUZIKAFE  Free!
Izvajalec: Terme Ptuj & Grand hotel Primus
Mali in veliki bomo spoznali, kakšno opremo so nosili rimski poveljniki in njegovi vojaki 2000 let nazaj. Za spomin pa si boste sami izdelali rimski meč.
MILENA ARSOVSKA – SOPRANO, PHILIPE SPIEGEL – BARITONE, PAVEL SINGER – PIANO (MK, AUT)
Love music from the Viennese composers
 AT 7.00 PM, THE FESTIVE HALL OF THE PTUJ CASTLE  12 €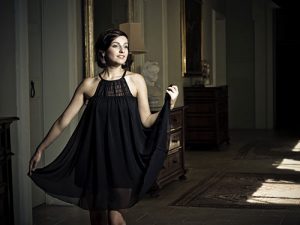 The concert will be dedicated to the most famous Vienna based composers and their music, from Mozart to Straus. We will hear duets and arias from the popular Mozart operas, Viennas operetta Die Zauberföte, Don Giovanni, Le nozze di Figaro, and others, in which Mozart described his love and passion. Vienna's opera is a relevant genre of musical culture from Vienna through glamorous waltzes Die Fledermaus, Wiener Blut, Zigeunerbaron and many others we will enjoy.
KLEMEN SLAKONJA & ALL STARS ORCHESTRA
 AT 8.30 PM, THE COURTYARD OF THE MINORITE MONASTERY  15 €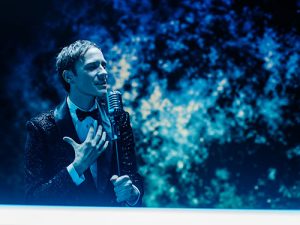 An excellent drama actor, singer, tv host and imitator Klemen Slakonja, together with top Slovenian musicians will stage a show of musical surprises, Under the artistic guidance of Lojze Krajnčan, who is also the conceptual leader of the project and author of all adaptations for the orchestra. We will hear Slakonjas greatest hits, like Ruf mich Angela, The Perverted Dance in Putin, Putout, with which he reached millions of views on his youtube channel. As one of the most musically talented Slovenian actors, he is going to perform the most demanding singing roles, for example opera aria Torna A Surriento, last year Evrovision winner Amar Pelos Dois and Jan Plestenjak … The concert will be, as always, spiced up with Slakonjas humour and theatre approach.
EVELINA SORŠAK "CROSS OVER"
 AT 9.30 PM, SLOVENIAN SQUARE  Free!
Evelina Soršak is a young vocalist, who introduced herself with her soloist role in the youth musical Butterfly Effect. She participates in various activities related to music. She also participated at the international vocal jazz camp with the New York Voices as one of the scolarship winners. She performed at many different social, cultural events and fashion shows. For this occasion Evelina prepared a colourful "CROSS OVER" programme, which will take you soaring to the stars of a summer night.
MUSIC FAIRY TALES – ACCORDION & PIANO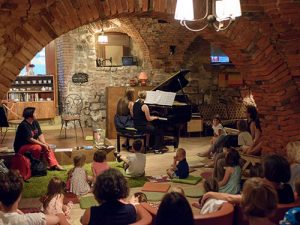 AT 5.00 PM, HOME OF CULTURE MUZIKAFE   3 €
Izvajalec: Liljana Klemenčič in učenci GŠ Karol Pahor
Deklica drobna in mila,
je na konice prstkov stopila,
nežno je poskočila, zaplesala,
saj balerina bo postala.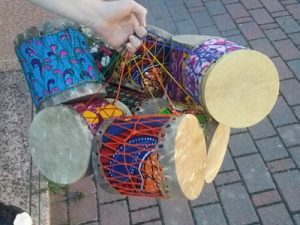 USTVARJALNA DELAVNICA IZDELAJ SVOJE GLASBILO
 AT 6.00 PM, HOME OF CULTURE MUZIKAFE  Free!
Izvajalec: Eva Vilčnik
Mi smo muzikantje, igramo na ves glas, vsi bobenček igramo, poslušajte zdaj nas! Ob glasbeni spremljavi otroških pesmic, boste izdelali svoj bobenček, na katerega bomo zaigrali. Delavnica je primerna predvsem za predšolske otroke in otroke v prvi triadi.
VLADIMIR MILOŠEVIĆ (SRB)
 AT 7.00 PM, THE FESTIVE HALL OF THE PTUJ CASTLE  12 €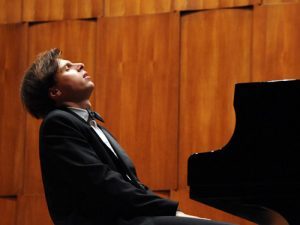 Programme: Bach-Rachmaninov: Transkripcija violinske partite E-dur (Prelude, Gavotta, Gigue), R. Schumann: Papillons op. 12, M. Ravel: Alborada del gracioso, F. Chopin: Ballade br. 4, f-moll, op. 52, F. Liszt: Madjarska rapsodija br. 12
Vladimir Miloševič is one of the most relevant Serbian pianists of todays generation. In 2013 he was proclaimed the winner for the of the concert Rising Artist Concerto in New York. His performances were praised by many critics, like Salle Cortot in Paris, Steinway Hall in London, Konzerthaus in Berlin, Teatro Tivoli in Porto, Foerster Hall in Prague, Teatro Olimpico in Vicenza, Konzerthaus in Vienna, Mann Auditorium in Tel Aviv, and also in Milan, Rome, Bari, Venice, Rennes, Nica, and Lyon. As the winner of the competition Concerts in villa Vicenzi (Italy) he performed at the prestigious recital Carnegie Hall in New York. He works together with many musicians, like flutist János Bálint, violinist David Casto-Balbi, Eric Crambes, Stefan Milenkovi, Dragan Djordjevič and others.
10 YEARS OF VOX ARSANA & VLADO KRESLIN (SLO)
 AT 8.30 PM, THE COURTYARD OF THE MINORITE MONASTERY  12 €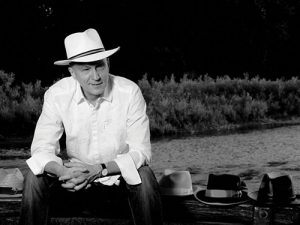 Vox Arsana: Nina Strnad, Ana Delin, Mladen Delin, Samo Ivačič in gost (and guest) Vlado Kreslin, Tom Hajšek – klavir (piano), Luka Gaiser – kontrabas (double bass), Bruno Domiter – bobni (drums)

Vox Arsana, celebrated 10 years of existence in December. They have performed at many important festivals in Slovenia, France, Croatia, Serbia and the United States, regularly participating with Slovenian and foreign musicians, They are a constant guest of Toti Big Band Maribor, Big Band RTV Slovenia and Big Band Croatia. In 2015, the group published their first studio album »TURN IT UP«, together with the national Big Band, and received excellent domestic and foreign reviews, and was also nominated for the award ZLATA PIŠČAL. Since 2013 they have worked together with two time nominated New York Voices. They will perform their multi-annual collection and present new adaptations of Vlado Kreslin's greatest hits.
BLASIUS
 AT 9.30 – 11:00 PM, SLOVENIAN SQUARE  Free!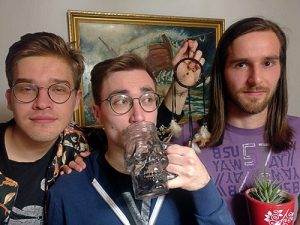 Blasius is a music band, formed in 2017 by Blaž Vidovič and Dominik Širovnik. They play classical rock. In the year 2018 they started making original music, which is going to be published in the near future.
MUSIC FAIRY TALES –  GUITAR & PERCUSSION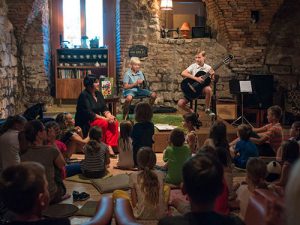 AT  5.00 PM, HOME OF CULTURE MUZIKAFE  3 €
Izvajalec: Liljana Klemenčič in učenci GŠ Karol Pahor
Šest zvonkih las
ji pokriva stas,
s posluhom jih gladim,
za petkov žur vadim.
CREATIVE WORKSHOP – SECRET POWER OF WATER
 AT 6.00 PM, HOME OF CULTURE MUZIKAFE  Free!
Izvajalec: Geomulci, Katarina Fuchs
Na delavnici bomo spoznali kako voda izoblikuje prodnike iz kamnov. Nanje bomo slikali različne motive ali zlepili unikatne izdelke/kipe. Pridite oblečeni v starejša oblačila, saj je ustvarjalna vnema z barvami zagotovljena.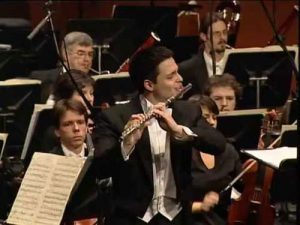 MARTIN BELIČ – FLUTE & IVAN FERČIČ –  PIANO (SLO) 
 AT 7.00 PM, THE FESTIVE HALL OF THE PTUJ CASTLE  12 €
Programme: G. Briccialdi, G. Enescu, T. Böhm, F. Borne, A. Bazzini
A recognized flutist Martin Belič, who since 2007 lives and works in Munich, is one of the Slovenian of the younger generation. He is a member of one of the best European orchestras Munchner Philharmoniker with conductor Valerio Gergiev. Ivan Ferčič, following studies at the Academy of Music Ljubljana attended many international piano courses and began with regular solos and chamber performances. During his education he attended many national, international and received golden awards. Martin Belič and Ivan Ferič possess a curious musical spirit which drives them to find new musical worlds and inspiring new partnerships. We can be convinced about this fact at the concert, which will be marked with romantic virtuoso compositions.
MAJA KEUC AMAYA – "TRIBUTE TO SOUL" (SLO)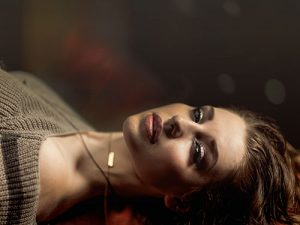 AT 8.00 PM, HOME OF CULTURE MUZIKAFE  10 €
Maja Keuc is a young soul singer well known in Slovenia by her performance at Slovenia's Got Talent 2010. A year later she represented Slovenia at the Eurovision Song Contest in Dusseldorf and reached the highest possible Slovenian place of all time. In cooperation with the group PAPIR she published her first album by the name Po Viharju (After the storm), and a year later her solo album Indigo. Last year she finished her studies of music in Rotterdam with excellence, and currently lives and works in the Scandinavian capital of music – Stockholm. In the Spring of 2017 she published her first international mini album Fairytales under her artistic name Amaya, in cooperation with the producer Orphee Noah. At the concert »Tribute to soul« Maja will be accompanied bu established musicians Miha Koretič (guitar), Dorian Granda (drums), and Jernej Kržič (base). The repertoire is a tribute to the most distinguished names of soul and blues music of the last 60 years, in combination with Maja's original music. Maja & Band promise you a night, full of good energy and music for the soul.
ART DANCE PERFORMANCE (EU)
 AT 8.00 PM, THE COURTYARD OF THE MINORITE MONASTERY   5 €
Under the mentorship of internationally recognized choreographers, like Hope (SAR), Giancarlo (ITA), Mimi Marčac (SLO), Ana Vodušek (SLO), there will be a week long educational dance camp at Ptuj for the dancers from all over the world. They will be working on jazz, modern and contemporary dance, disco dance and hip hop, and present their work at the main stage of the Arsana festival in the end.
GUITAR TRIBUTE TO ROCK & BLUES
 AT 9.30-11.00 PM, SLOVENIAN SQUARE  Free!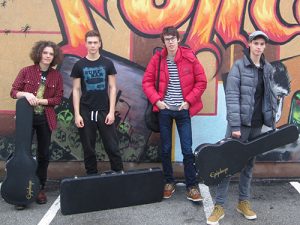 Performing: Luka Gašparič – guitar, vocal, Vid Žirovnik – guitar, Gal Jeza – guitar, Vito Levstik – guitar
Young Ptuj's musicians, who are training for many years with very well known pedagogue and guitarist Marko Korošec, are going to introduce themselves with selections of guitar giants like Jimi Hendrix, Santana, B. B. King and many others.
CUBISMO (CRO, CUB)
 AT 9.30 PM, THE COURTYARD OF THE MINORITE MONASTERY   10 €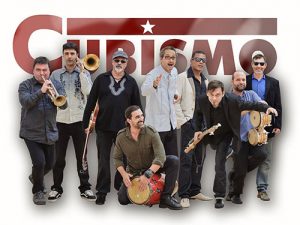 Cubismo is a Croatian band with international musical performers – their members from Croatia, Slovenia, Cuba and Equador.are joining together to play energetic dance music, based on African-Cuban rhythms in their own recognizable style. The dominant rhythms of Cubismo music is salsa and latino jazz, with influences of hip hop, funk and rock. Visitors to their concerts are allured with Cubismo's positive energy shining from the stage.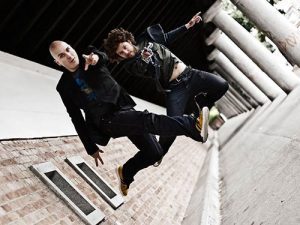 SOUNDS OF THE WORLD –  A MUSICAL ADVENTURE (SLO)
MUSIC CULTURAL AND EDUCATIONAL LEARNING HOUR
 AT 10.00 PM, THE COURTYARD OF THE IVAN POTRČ LIBRARY PTUJ  Free!
Izvajalec: Boštjan Gombač & Janez Dovč
Janez Dovč in Boštjan Gombač, vrhunska glasbenika, ki ju poznamo kot solista in člana mnogih slovenskih zasedb (Katalena, Jararaja, Kisha, Terrafolk, Sounds of Slovenia itd.), že vrsto let nastopata tudi kot prav posebna glasbena kombinacija, ki navdušuje z neverjetno pozitivno energijo in igranjem na sila zanimive instrumente. Glasbenika na povsem svojstven način predstavljata znane in manj znane teme iz bogate zakladnice svetovne ljudske glasbe s poudarkom na slovenskem ljudskem izročilu. Njuni koncerti so začinjeni z vrhunskimi improvizacijami in pravo dozo zabave. S svojo virtuoznostjo in hudomušnostjo privabita k poslušanju še tako nedostopnega poslušalca. Janez in Boštjan sta posebej za otroke pripravila program z naslovom Sozvočja sveta, ki zajema ljudske glasbe sveta s poudarkom na otrokom in mladostnikom zanimivih improvizacijah, na melodijah iz slovenske ljudske dediščine. Glasbeni program tvorita koncert in delavnica, s katero glasbenika na igriv in praktičen način prikazujeta uporabnost različnih instrumentov in možnosti glasbenega ustvarjanja, hkrati pa podajata občutek za raznolikost ljudskih godb kot dela kulturne dediščine sveta. Izvajalca se podajata na raziskovanje zvočnosti raznih uporabnih predmetov in igrač, poslušalcem pa odkrivata tudi številne neznane zmožnosti že znanih instrumentov. S tem glasbenika v otrocih in mladostnikih spodbujata razmišljanje in omogočata drugačen pogled na že videno in slišano.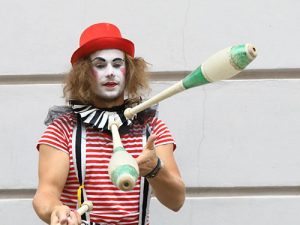 ARTISTIC PERFORMANCE – CIRCUS FOR KIDS (SLO)
 AT 6.00 PM, HOME OF CULTURE MUZIKAFE  Free!
Izvajalec: ZUM Kreativa
Artisti so eni izmed tistih, ki se z veseljem odpravijo iz svojega cirkusa in obiščejo otroke. Z veliko željo po zabavanju in nastopanju artisti pripeljejo cirkus kar med njih. Skozi zgodbo jim na komičen način pokažejo kaj vse v cirkusu počno in v svoje vragolije vključijo tudi otroke. Predstava vsebuje akrobatiko, žongliranje, vožnjo z monokolesom, hojo po vrvi, ples in petje ter interakcijo z otroci. Otroci so tako deležni čisto pravega cirkusa, ki jih bo vsekakor dodobra nasmejal in navdušil.
OPEN KITCHEN
 AT 11.00 AM – 21.00 PM, TOWN SQUARE
After last year's success at the Town Square, we will host Odprta kuhna (Open Kitchen) again, where the festival attendees try food from different parts of Slovenia as well as world cuisines. The concept of Odprta kuhna was conceived by Alma and Lior Kochavy 6 years ago who regularly hosting in Ljubljana, Koper, Celje and Nova Gorica. In 2014, the project received the "Jakob Award" for Excellence and Quality in Tourism of the Alps Adria region, and the "Sejalec Award" for innovative achievements in tourism. The vision of this year will be to offer varied, original, fresh and quality dishes, complemented by a rich offer of wines, cocktails, beers and other beverages.
SOUNDS OF SLOVENIA (SLO)
 OB 20.00 URI, DOM KULTURE MUZIKAFE  10 €
Gregor Volk – vocal, guitars, harmonica
Janez Dovč – accordion, vocals, electronics
Goran Krmac – tube, stomp box
Top Slovenian musicians, who are well known as soloists and members of many Slovenian groups will present themselves in a very interesting combination: with their virtuosity and wit will present Slovenian folk music in contemporary style. The musicians developed a special feeling for a contrapunkt between different musical traditions and freedom of personal expression. In the end of the New Era its not only about Renaissance anymore, but about resonance of the space; not only soundness, but co-soundness, and not only toning, but tuning. As the Ambassadors of Slovenian cultural and natural diversity, with their interesting performance they perform at many festivals and events abroad (China, India, Great Britain, Israel, Ireland, Italy …).
DIALOGUE – ART EXHIBITION FENOS ALEKSANDER & friends
 AT 8.00 PM, HOTEL MITRA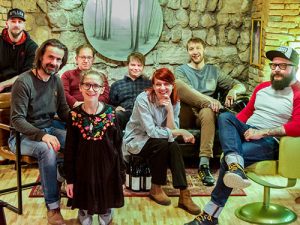 After two successful artistic exhibitions as in the previous years, this year Fenos Aleksander (hairdresser-artist) is suprising us again, in the search of artistic dialogue with different artists. He will then produce three joint works of art, where the work of one and the other will intertwine on the same basis. With Sabina Hameršak (fashion designer) the art work on the canvas will be intertwined with the materials of her shop and sewing. Dejan Miletič (graphic designer) will combine graphic approaches on paper with a fluid drawing. With Srečko Molk (designer of jewelry) Aleksander will link the design of wood with an oil painting of Tjaša Tia Cusch (academic painter). Jernej Gojkovič (drawer) will draw using his lonving graffiti sprays. Albin Bezjak (photographer-artist) will space the photography with digital drawing. Aleš Lubec (tattoo artist) will do a common tattoo on the hand of the same person. With his daughter Darma Fenos (elementary school student) he will be looking at what do they have in common in art.
The exhibition differs because of its combining cooperation of many artists, art techniques and sharing ideas, and at the same it gives Aleksander Fenos a chance to express his creative soul with the chosen.
APELA
 AT 9.30-11.00 PM, SLOVENIAN SQUARE  Free!
Performing: Špela Brumen – vocal, Aleksander Živko – PIANO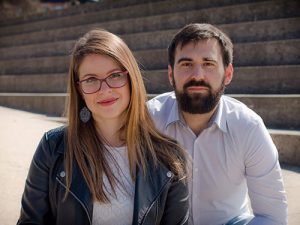 Špela and Aleksander are working on acoustic adaptations of famous pop and rock songs. Their ideas derive from pop, classical and jazz music, representing the songs with a fresh view. They are perfectly complementary with their mastery of the instruments and vocals. We will hear music of Bruno Mars, Ed Sheeran, latino music alongside gentle and sensual ballads.
MAGNIFICO (SLO)
 AT 9.30 PM, THE COURTYARD OF THE MINORITE MONASTERY   20 €, 25 €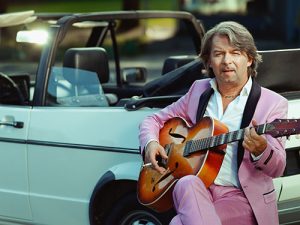 Magnifico significantly marked the Slovenian culture in the last three decades. He gave us "24 thousand kisses",and introduce us to "Silvia", and breaking stereotypes on immigrants, gays and other minorities. He thought us "Marš na Drino" and given us "Only love". In his career, he has published and composed eight albums and three film soundtracks, with more than 1000 concerts in Slovenia and around the world.