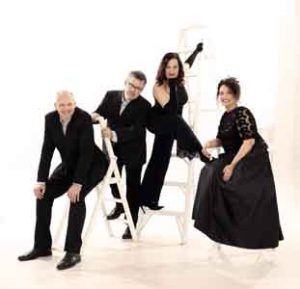 VOCAL WORKSHOP WITH NEW YORK VOICES
11.00 am – 9.00 pm, Karol Pahor Ptuj Music School Hall

Vocal master class is intended for students, high school students, professional musicians, vocal groups, professors and anyone who wants to improve and develop knowledge in jazz music performance.
Lauren Kinhan, Darmon Meader, Peter Eldridge and Kim Nazarian are the members of the NEW YORK VOICES vocal quartet and recipients of 2 Grammys. They will lecture on vocal technique, vocal jazz improvisation (scat), interpretation of jazz standards, group polyphonic singing and answer questions from participants.
The master class will be held in two parts. In the morning, there will be a group workshop from 9.00 am to 1.00 pm. In the afternoon, there will be individual lessons with NYV members available to all participants for passive participation.
THE NUMBER OF ACTIVE PARTICIPANTS IS LIMITED, SO HURRY UP WITH THE REGISTRATION!