Komorni godalni orkester Slovenske filharmonije s solisti EmarsMasters (SLO, SRB, CRO)
At 7.00 pm, Festive hall of Ptuj Castle, price 15 €
Soloists: Adam KAMPLET – piano, Ana MICULINIĆ – cello, Carlos Amaru FERNANDEZ OSTAŠEVSKI – violin, Dorotea SENICA – flute, Manca KUKOVIČ – cello, Marija OBRADOIĆ – flute, Miha ŠPEC – clarinete, Mila Imak FERNANDEZ OSTAŠEVSKI – violin, Miran VOJVODIĆ – clarinete, Nejc KAMPLET – piano
The Chamber String Orchestra of the Slovenian Philharmonic EMARSMaster represents the highest level of education in the EMARS project for young musicians whose main guide in life is music. It enables young artists to upgrade their regular music education with top professors throughout the school year. The program includes 50 young pianists, violinists, flutists, clarinetists, and cellists from Slovenia, Austria, Croatia, Serbia and Italy, who present themselves with a full-length concert at the end of the training. The finalists of the concert will be given the opportunity to perform a solo concert with the Chamber String Orchestra of the Slovenian Philharmonic, which is regularly recorded by Radio Slovenia and broadcast in its program schedule of the ARS program. In addition to the recorded concert and its transmission, the house takes care of interviews and promotion of young soloists, the venue of the concert event. A concert with a professional orchestra is every musician's greatest reward on his musical journey.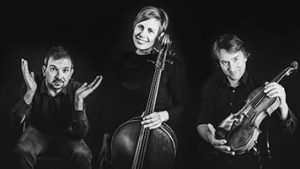 Trio Noordung (SLO)
At 7:00 p.m., Festive hall of Ptuj Castle, Price €15
Performing: Miha Haas, Matjaž Porovna and Petra Greblo
Trio Noordung consists of three top Slovenian academic musicians: cellist Petra Greblo, pianist Miha Haas and violinist Matjaž Porovne. The ensemble was founded in 2021 with the aim of long-term  cooperation and contribution to permanent chamber ensembles in our cultural space. The musicians have been working together on a wide variety of projects since their student years, but this time they decided to transfer their experience of performing music from standard chamber and symphonic music to modern experimental music and mixed styles that interweave classical tradition with folkloristic melos and more popular genres. piano trio practice. Cellist Petra Grebo and violinist Matjaž Porovne are members of the Slovenian Philharmonic Orchestra, while pianist Miha Haas works as a pedagogue at the Academy of Music in Ljubljana. The musicians have so far established themselves as soloists and members of various ensembles at home and abroad, and they have already performed at their first concerts.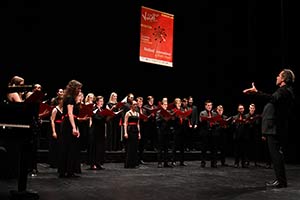 ORIENT – OCCIDENT / EAST – WEST (SLO)
KGBL Chamber Choir
Conductor and artistic director: Ambrož Čopi
At 7:00 p.m., Festive hall of Ptuj Castle, Price €15
Under the direction of Ambrož Čopi, the KGBL Chamber Choir will present selected works by Slovenian composers such as: Ambrož Čopi, Tadeja Vulc, Andrej Makor, Tine Bec, Matej Kastelic, Klara Mlakar, Jan Triler.
At the crossroads of cultures, religions and nationalities, Slovenians form a bridge between East and West (orient-occident). The project combines two religions – Catholic and Orthodox – with a pagan heritage songs about the sun. Compositions by established Slovenian composers and the youngest generation, most of which were composed in the last period, especially for the KGBL chamber choir, connect the past with the present through different sound worlds and in communication they look for what illuminates our interior and encourages hope.